News
Ethereal Chrysalis at festival de cinema de la ville de quebec

Posted September 24 2011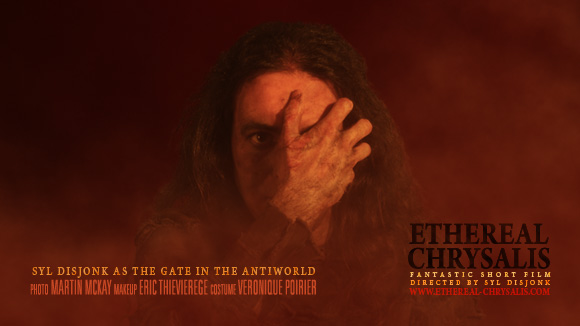 Syl Disjonk as the gate in the antiworld
in the fantastic short film Ethereal Chrysalis.
Photo: Martin McKay, makup Éric Thievierge, costume Véronique Poirier.
In collaboration with Festival Vitesse Lumière the surreal short film Ethereal Chrysalis directed by Syl Disjonk Chrysalis will have is first screening in high definition at the Festival de cinema de la ville de Québec opening for The Corridor feature film programmed by Fantasia.
Thursday, September 29th at 8:00 PM
Theatre Petit Champlain
68 Rue du Petit Champlain
Quebec, QC, Canada
TICKET
Friday, September 30 at 9:00 PM
at the Clap Cinema
2360, chemin Sainte-Foy,
Innovation Centre (the pyramid)
Quebec (QC), Canada
TICKET
Synopsis for Ethereal Chrysalis written by the Festival de cinema de la ville de Québec:
A surreal and philosophical tale or just a nightmare of the director? The Dali style image take us into a fantasy world where death and reincarnation are the subjects.
Written and directed by Syl Disjonk
Assistant director : Carnior
Produced by Syl Disjonk & Igor Simonnet
Director of photography : Martin McKay
Original music : Martin Gauthier
Sound Designer: Keith McMullen
Art direction by : Véronique Poirier
Cast
Syl Disjonk:  Traveller, sleeping giant, schizophrenic & mutant
Raynald Lapierre: Psychic alchemist
Special effects by Éric Thievierge, Rémy Couture and Jean Pronovost
Visual effects (matte painting and compositing) by Syl Disjonk and Éric Bilodeau
Ethereal Chrysalis official world premiere was held on Aug. 6th at Fantasia International Film Festival in Montreal, QC, Canada.
A work in progress of Ethereal Chrysalis was screened on June 3rd 2011 at Vitesse Lumière Festival in Quebec City.
The reaction was so positive that we won the prize for the best film ex aequo. See article...
In 2006 Syl Disjonk won the audience award and a special jury prize at the Festival Vitesse Lumière in Quebec for his post-apocalyptic short film Zordax II: The Metal War.