News
Report from Ethereal Chrysalis U.S. premiere at
H.P. Lovecraft Film Festival in Portland, Oregon
Posted October 15th 2011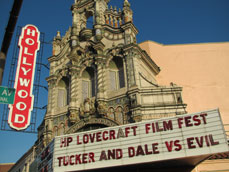 So far the fantastic short film Ethereal Chrysalis received its best crowd reaction at the H.P. Lovecraft Film Festival and the sold out Hollywood Theatre of Portland Oregon was totally flabbergasted by the Lovecraftian dementia of Ethereal Chrysalis.
Open minded, the Portland's public compared Syl Disjonk's work to authors Clive Barker (Hellraiser) & Clark Ashton Smith (H.P. Lovevraft's friend), to visual artists Dan Sea Grave (britanic painter recognized for his work with the death & trash metal music industry)  &  H.R.Giger (Alien) as well as the work of the well renowned author and film maker Alejandro Jodorowsky.
After the projection, promotional prints from Ethereal Chrysalis were given by director Syl Disjonk in the lobby room to the captivated fans and guess what… Every pictures of  the turtle-crab creature designed and sculpted by Jean Pronovost disappeared in a split second!
"Amid the many films executed in shades of grey and muted tones, the kaleidoscopic colors of 'Chrysalis' just about knocked me out of my seat. This short is so intensely personal, so visceral, that I felt wrong for watching it — like I was peeking into someone's diary. Stunning stuff."
- Leslie H., sheneversleep.com -
Syl Disjonk would like to thank the organizers Gwen and Brian Callahan personally for the invitation and a special thank goes to H.P. Lovecraft Film Festival founder Andrew Migliore for his kind hospitality.
Press review :
http://sheneverslept.com/newsandreviews/archives/7177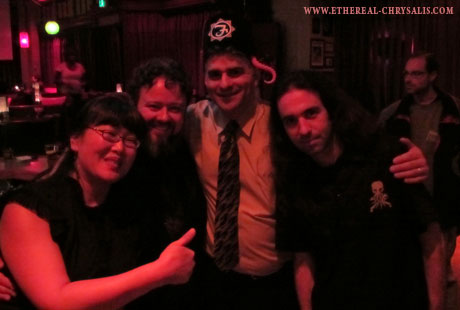 Gwen and Brian Callahan (HP Lovecraft Film Festival organizers), Andrew Migliore (festival founder) and Syl Disjonk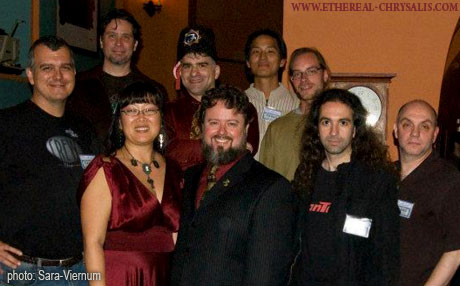 Left to right : Sean Branney director of the feature film Lovecraft adaptation The Whisperer In Darkness, Dave Snyder (special effects artist for Whisperer In Darkness), Gwen Callahan, Andrew Migliore, Brian Callahan, Huan Vu director of Die Fabre , Jan Roth (editor Die Fabre), Syl Disjonk director of Ethereal Chrysalis and Rick Tillman director of the The Call of Nature animated short film.
Ethereal Chrysalis U.S. premiere at H.P. Lovecraft Film Festival in Portland, Oregon
Posted September 26 2011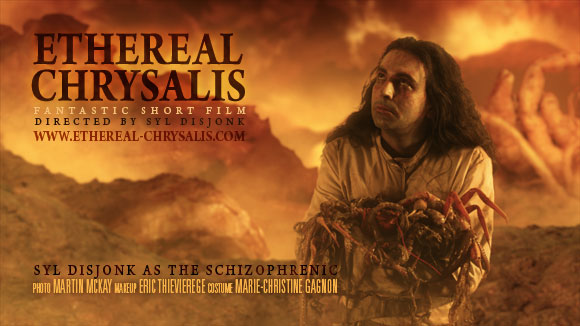 Syl Disjonk as the schizophrenic in the Lovecraftian short film Ethereal Chrysalis.
Photo: Martin McKay, makeup Éric Thievierge, costume Marie-Christine Gagnon.
Syl Disjonk will be attending the H.P. Lovecraft Film Festival in Portland, Oregon, USA for the screening of his fantastic short film Ethereal Chysalis.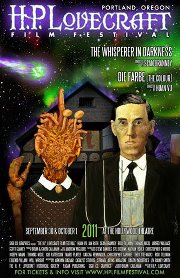 H.P. Lovecraft Film Festival
is on Friday September 30 and October 1st
at Hollywood Theatre
4122 NE Sandy Boulevard
Portland, OR 97212



Buy two-night passes for $20 here: http://goo.gl/hR1if
Single night tickets for Friday ...or Saturday for $12: http://goo.gl/M4uj8

Or, at the door, two-night tickets are $25, single night are $15.
Friday feature film is The Whisperer in Darkness in presence of director Sean Branney.
Saturday feature film is Die Farbe in presence of director Huan Vu from Germany.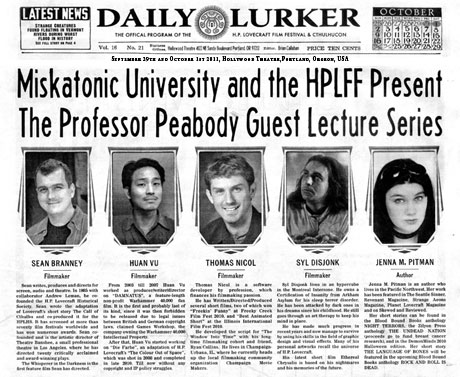 Short film showing at the festival :
"Call of Nature" by Rick Tillman
"Flush with Fear" by Christopher G Moore
"Doppelganger" by Theo Stefanski
"The Ritual" by Will Wright
"Idol Worship" by Theo Stefanski
"Dirty Silverware" by Steve Daniels
"Ethereal Chrysalis" by Syl Disjonk
"Edgar Allan Poe's 'The Raven'" by Christopher Saphire
"Apartment Eleven" by Mark Player
"Window Into Time" by Thomas Nicol
"Haselwurm" by Eugenio Villani
"Black Goat" by Erik Wilson
"The Island" by Nathan Fisher
"Static Aeons" by Gib Patterson
"Shadow of the Unnamable" by Sascha Renninger
H.P. Lovecraft Film Festival Website
Syl Disjonk lovecraftian bio:
Syl Disjonk lives in an hypercube in the Montreal Interzone. He owns a Certification of Insanity from Arkham Asylum for his sleep terror disorder. He has been attacked by dark ones in his dreams since his childhood. He still goes through an art therapy to keep his mind in place.
He has made much progress in recent years and now manage to survive by using his skills in the field of graphic design and visual effects. Many of his personal artworks recall the universe of H.P. Lovecraft. 
His latest short film Ethereal Chrysalis is based on his nightmares and his memories of the future.
Lovecraftian artworks by Syl Disjonk:
Ethereal Chrysalis main credits:
Written and directed by Syl Disjonk
Assistant director : Carnior
Produced by Syl Disjonk & Igor Simonnet
Director of photography : Martin McKay
Original music : Martin Gauthier
Sound Designer: Keith McMullen
Art direction by : Véronique Poirier
Cast
Syl Disjonk:  Traveller, sleeping giant, schizophrenic & mutant
Raynald Lapierre: Psychic alchemist
Special effects by Éric Thievierge, Rémy Couture and Jean Pronovost
Visual effects (matte painting and compositing) by Syl Disjonk and Éric Bilodeau
Notes:
Synopsis for Ethereal Chrysalis written by the Festival de cinema de la ville de Québec:
A surreal and philosophical tale or just a nightmare of the director?
The Dali style image take us into a fantasy world where death and reincarnation are the subjects.
Ethereal Chrysalis official world premiere was held on Aug. 6th 2011
at Fantasia International Film Festival in Montreal, QC, Canada.
A work in progress of Ethereal Chrysalis was screened on June 3rd 2011 at Vitesse Lumière Festival in Quebec City.
The reaction was so positive that we won the prize for the best film ex aequo. See article...
In 2006 Syl Disjonk won the audience award and a special jury prize at the Festival Vitesse Lumière in Quebec for his post-apocalyptic short film Zordax II: The Metal War.