News
Ethereal Chrysalis at Mascara & Popcorn's: NIHILISM - DIGGERFILMS FUNDRAISER - Thursday November 17th at Cabaret Playhouse Montreal

Posted November 14th 2011
The fantastic short film Ethereal Chrysalis will be screened at Mascara & Popcorn's: NIHILISME - DIGGERFILMS FUNDRAISER.
Thursday November 17th at 6:30 PM
Cabaret Playouse
5656 Avenue du Parc Montreal Google Maps
5$
An evening of sci-fi, fantasy, dystopia, horror and gore.
Presenting excerpts of DiggerFilms' UNDER THE SCARES
as well as an interactive workshop and fundraiser for DiggerFilms, hosted by Steve Villeneuve, producer of Under The Scares.
DiggerFilms is an independent film company specializing in genre cinema. Based in Montreal, DiggerFilms can offer films with both American and European influences to please different crowds. Being part of a new wave of indie genre films and festival communities in Quebec, DiggerFilms supports the local scene as much as possible (SPASM Film Festival, FantAsia Film Festival, etc), as well as attending the most important Con on the American East-coast. The Mascara & Popcorn Festival has graciously offered to hold a fundraiser night for DiggerFilms on November 17th 2011 at Cabaret Playhouse.
Screening of the following short movies and feature length film:
IN DARKNESS - Alberto Martinez
DEC. 27 - Adam Reider
THE KIDNAPPING - Robin Summer, Colin Riendeau
PURGATORY - Eric Falardeau
FROM BEHIND - A.Normal Films
SNUFF - Maude Michaud
ICE SCREAM - Charles Dubé
RECESSED - Maude Michaud
PANDORA'S PARADOX - Mathieu Saliba
ZORDAX II - Syl Disjonk
ETHEREAL CHRYSALIS - Syl Disjonk
FAHRENHEIT 212 - Elie Carle, Hyacinthe Carle
CABIN OF TERROR - Dave Bertrand, Jimi Cuell
(more to be announced soon)
+
Mascara & Popcorn in collaboration with Maurice Devereaux Productions present the feature:
END OF THE LINE by Maurice Devereaux
+
Live performance by psychedelic/surfer rock band:
WALTER TV

Doors open at 6pm
Show starts at 6:30pm
Door: 5$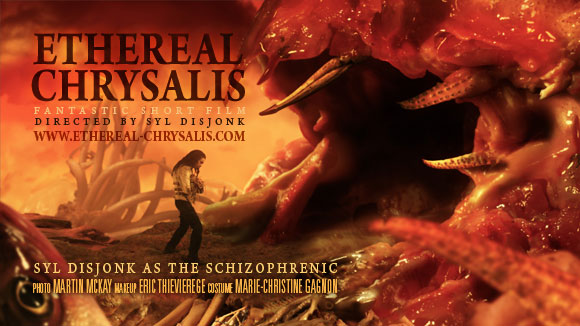 Syl Disjonk as the schizophrenic in the Lovecraftian short film Ethereal Chrysalis.
Photo: Martin McKay, makup Éric Thievierge, costume Marie-Christine Gagnon.
Ethereal Chrysalis main credits:
Written and directed by Syl Disjonk
Assistant director : Carnior
Produced by Syl Disjonk & Igor Simonnet
Director of photography : Martin McKay
Original music : Martin Gauthier
Sound Designer: Keith McMullen
Art direction by : Véronique Poirier
Cast
Syl Disjonk:  Traveller, sleeping giant, schizophrenic & mutant
Raynald Lapierre: Psychic alchemist
Special effects by Éric Thievierge, Rémy Couture and Jean Pronovost
Visual effects (matte painting and compositing)
by Syl Disjonk and Éric Bilodeau
Notes:
Toronto After Dark Film Festival synopsis for Ethereal Chrysalis : An epic orchestral score propels a cacophony of surreal horror imagery conjured through a masterful use of prosthetics, miniatures and stop-animation.
Ethereal Chrysalis U.S. premiere at the H.P. Lovecraft Film Festival report.
Synopsis for Ethereal Chrysalis written by the Festival de cinema de la ville de Québec: A surreal and philosophical tale or just a nightmare of the director? The Dali style image take us into a fantasy world where death and reincarnation are the subjects.
Ethereal Chrysalis official world premiere was held on Aug. 6th 2011 at Fantasia International Film Festival in Montreal, QC, Canada.
A work in progress of Ethereal Chrysalis was screened on June 3rd 2011 at Vitesse Lumière Festival in Quebec City. The reaction was so positive that we won the prize for the best film ex aequo. See article...
In 2006 Syl Disjonk won the audience award and a special jury prize at the Festival Vitesse Lumière in Quebec for his post-apocalyptic short film Zordax II: The Metal War.