News
Report from the Ethereal Chrysalis at Toronto After Dark Film Festival
Posted November 30 2011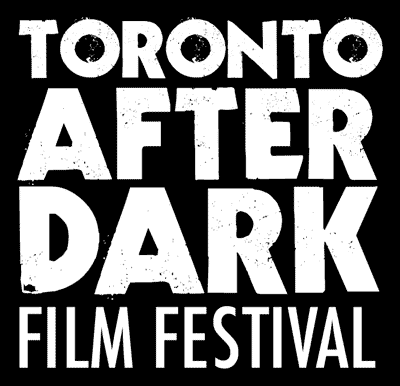 The fantastic short film Ethereal Chrysalis had a great success at Toronto After Dark Film Festival. Opening for Steven Kostanski's 80's VHS worship Manborg, Ethereal Chrysalis surprise the audience with an over the top and bizarre surreal imagery.
It's been the best festival for online covering so far.
Blogger Matt Hodgson found echos of Ethereal Chrysalis in the work of the obscure Weird Tales Magazine author Clark Ashton Smith and he also found that the psychic alchemist character played by Raynald Lapierre is reminiscent of occultist Aleister Crowley.
"Absolutely stunning" Shannon the Movie Moxie.
"That was so fucking metal !" Festival attendee Patrick Gamez
"Totally amazing" Terry Makedon - Tmakworld.com
"Beats the hell out of me" Mike Pereira - Bloody Disgusting
Special thank to Toronto After Dark president Adam Lopez for his warm hospitality and  Peter Kuplowsky for choosing Ethereal Chrysalis as part of the awesome Canada After Dark short film selection. Thanks to Trevor Muminski of Rue Morgue Magazine to show me around their office located litteraly in an ancient morgue !
Links the complete reviews :
Matt Hodgson Entertainment Maven Ethereal Chysalis review
Shannon the Movie Moxie Ethereal Chrysalis review

Mike Pereira - Bloody Disgusting Ethereal Chrysalis review
Alex filmforager Ethereal Chrysalis review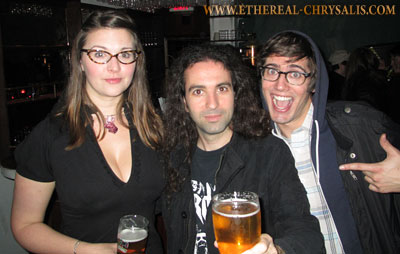 Bridget Van Voorden, SylDisjonk
and Patrick "That was so fucking metal !" Gamez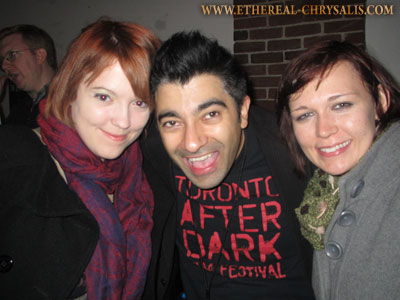 Lauren Bowman, AdamLopez (Toronto After Dark president) and Cat Pickard. Both girls made the trip from U.K. to attend at the festival!



Jason Trost (director of VS) and Syl Disjonk


Matt Hodgson (Entertainment Maven) and Little Red

Steven Landry (Programming Manager for TAD)


Bridget Van Voorden and Charlie Lawton
(Toronto Underground Cinema)



Peter Kuplowsky and Syl Disjonk talking subconscious


Christian Aldo (Roncy Street Gallery)
Ethereal Chrysalis opening for Manborg at Toronto After Dark Film Festival
Posted October 19th 2011
Ethereal Chrysalis, a fantastic short film directed by Syl Disjonk will be presented at the Toronto After Dark Film Festival. Part of the 16 short films composing the Canada After Dark selection, Ethereal Chrysalis will be presented this Tuesday, October 25th at 9:45 PM at the Toronto Underground Cinema just before Manborg, a Steven Kostanski's 80s style sci-fi feature about a cyborg killing machine. Manborg and Ethereal Chrysalis will both have their Toronto premiere in this event co-presented by the Nerd Mafia.
In 2006, Syl Disjonk released the 80's Italian straight to videoclub post apocalyptic short film Zordax II : The Metal War. In 2008, Steven Kostanski released the 80s sci-fi over the top psychotronic trailer Lazer Ghosts 2 : Return to laser cove. Both are sequel to movies that does not exist, although a rumor persists to the effect that a Zordax I lazer disc was lost somewhere in the Japanese market.
After a remarkable US premiere at the H.P. Lovecraft Film Festival in front of a flabbergasted audience, the Syl Disjonk's nightmare is now ready to embedded Toronto's horror fans minds. Syl Disjonk is attending at the the Festival on October 25th and will be available for inteviews.
Ethereal Chrysalis : don't miss the call…
"Amid the many films executed in shades of grey and muted tones, the kaleidoscopic colors of 'Chrysalis' just about knocked me out of my seat. This short is so intensely personal, so visceral, that I felt wrong for watching it — like I was peeking into someone's diary. Stunning stuff."
- Leslie H., sheneversleep.com –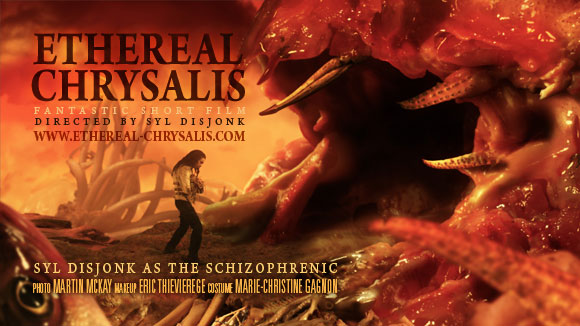 Syl Disjonk as the schizophrenic in the Lovecraftian short film Ethereal Chrysalis.
Photo: Martin McKay, makeup Éric Thievierge, costume Marie-Christine Gagnon.
Ethereal Chrysalis main credits:
Written and directed by Syl Disjonk
Assistant director : Carnior
Produced by Syl Disjonk & Igor Simonnet
Director of photography : Martin McKay
Original music : Martin Gauthier
Sound Designer: Keith McMullen
Art direction by : Véronique Poirier
Cast
Syl Disjonk:  Traveller, sleeping giant, schizophrenic & mutant
Raynald Lapierre: Psychic alchemist
Special effects by Éric Thievierge, Rémy Couture and Jean Pronovost
Visual effects (matte painting and compositing)
by Syl Disjonk and Éric Bilodeau
Notes:
Toronto After Dark Film Festival synopsis for Ethereal Chrysalis : An epic orchestral score propels a cacophony of surreal horror imagery conjured through a masterful use of prosthetics, miniatures and stop-animation.
Ethereal Chrysalis U.S. premiere at the H.P. Lovecraft Film Festival report.
Synopsis for Ethereal Chrysalis written by the Festival de cinema de la ville de Québec: A surreal and philosophical tale or just a nightmare of the director? The Dali style image take us into a fantasy world where death and reincarnation are the subjects.
Ethereal Chrysalis official world premiere was held on Aug. 6th 2011 at Fantasia International Film Festival in Montreal, QC, Canada.
A work in progress of Ethereal Chrysalis was screened on June 3rd 2011 at Vitesse Lumière Festival in Quebec City. The reaction was so positive that we won the prize for the best film ex aequo. See article...
In 2006 Syl Disjonk won the audience award and a special jury prize at the Festival Vitesse Lumière in Quebec for his post-apocalyptic short film Zordax II: The Metal War.