News
Ethereal Chrysalis Mexican premiere at Morbido
Posted November 12th 2012
Ethereal Chrysalis director/writer/actor Syl Disjonk will attend the MORBIDO film festival (November 15th to 18th) for the Mexican premiere of his his twisted short film in Pátzcuaro, Michoacán.

Ciclos De Vida & Muerte 1 (111 min.)
Saturday November 17th, 11 AM
Auditorio G. Bocanegra
Pátzcuaro, Michoacán, Mexico

Syl Disjonk will also take part in art hexibition at the Ancient Jesuit College.

Winner of the best short film at Minneapolis Underground and Vitesse Lumière film festival, Ethereal Chrysalis also won in the experimental gategory at New York International Independant Film Festival L.A. edition in 2012.

The genre defying Ethereal Chrysalis was also noticeably screened at Fantasia, Pifan (Korea), Toronto After Dark, Rojo Sangre (Argentina), Dead by Dawn (Scotland) and the H.P. Lovecraft Film Festival in Portland Oregon, USA where it got a tremendous positive response.

Ciclos De Vida & Muerte 1 proram in detail :

1)    COMO PERROS Y GATOS, Dir. Armando Vega Gil, 4 min, México

2)    LA NORIA, Dir. Karla Castañeda, 12 min, México

3)    THE LAST OF THE NIGHTS Dir. Luis Galán, 21 min, España

4)    ONCE UPON A TIME IN THE COUNTRYSIDE Dir. Ricardo Machado, 10 min, Portugal

5)    FOXES Dir. Lorcan Finnegan, 16 min, Irlanda

6)    EL TERCERO Dir. Iván D'Onadio,  17 min, Perú

7)    ONE SHOT ET PETITES CONSEQUENCES Dir. Sylvain Giannetto, 20 min, Francia

8)    TRANSMIGRATION, Dir. Mario E. Pizarro, 3 min, México

9)    ETHEREAL CHRYSALIS Dir. Syl Disjonk ,10 min, Canada


Syl Disjonk as the schizophrenic in the Lovecraftian short film Ethereal Chrysalis.
Photo: Martin McKay, makup Éric Thievierge, costume Marie-Christine Gagnon.

"A masterpiece of short form psychedelic cinema." Tal Zimerman
RUE MORGUE magazine

"… Coming at you like Neil Gaiman's Mirror-Mask set in the world of Hellraiser comes Syl Disjonk's Ethereal Chrysalis. …" Chris Hallock - All Things Horrors

"… The short film is a head trip of demonic delights, with Cronenberg-esque insects swimming through a nightmarish dreamscape that would make Clive Barker giddy…" Jason Cangialosi - Yahoo Movies

INTERVIEW with ETHEREAL CHRYSALIS director Syl Disjonk
http://www.subtitledonline.com/special-features/syl-disjonk


The Sleeping Giant in the short film Ethereal Chrysalis directed by Syl Disjonk
Photo Martin McKay, sleeping giant makeup Jean Pronovost and Rémy Couture, costume Marie-Christine Gagnon.
Syl Disjonk lovecraftian bio:
Syl Disjonk lives in an hypercube in the Montreal Interzone. He owns a Certification of Insanity from Arkham Asylum for his sleep terror disorder. He has been attacked by dark ones in his dreams since his childhood. He still goes through an art therapy to keep his mind in place.
He has made much progress in recent years and now manage to survive by using his skills in the field of graphic design and visual effects. Many of his personal artworks recall the universe of H.P. Lovecraft. 
His latest short film Ethereal Chrysalis is based on his nightmares and his memories of the future.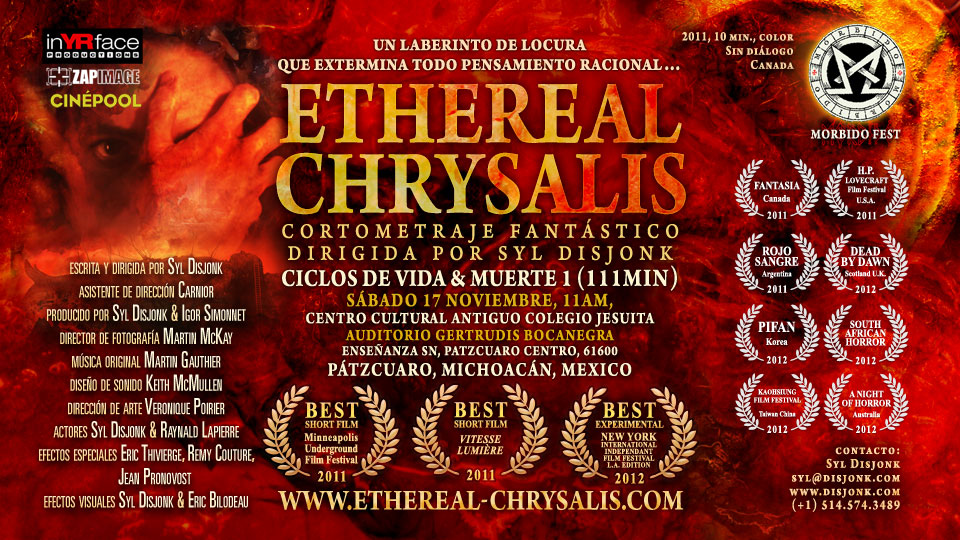 Lovecraftian artworks by Syl Disjonk:
Ethereal Chrysalis - Fantastic short film - Trailer from Syl Disjonk on Vimeo.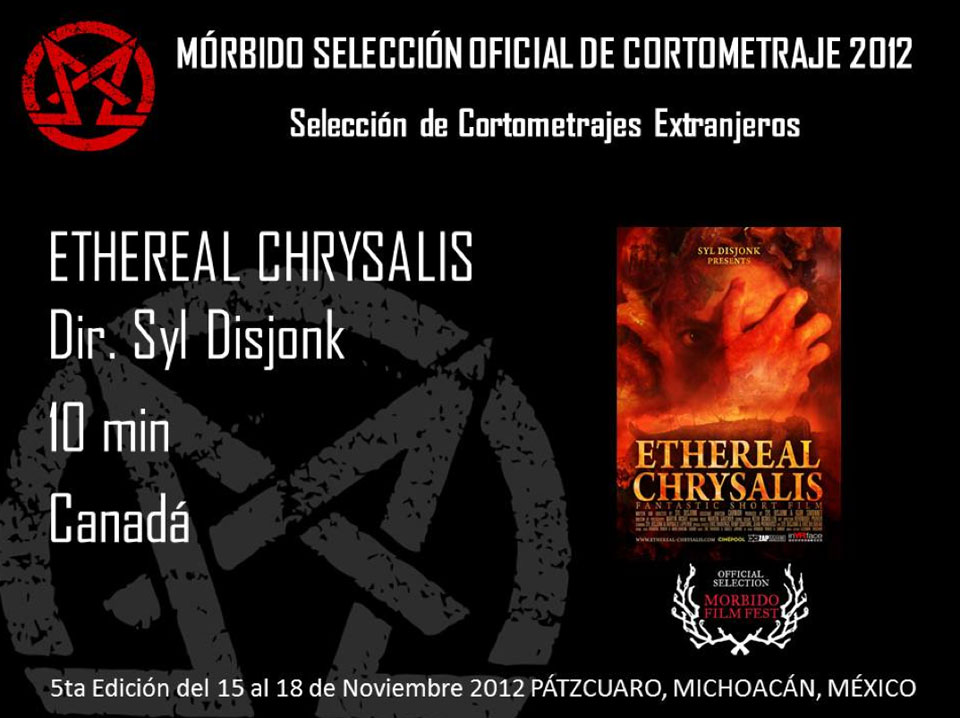 Ethereal Chrysalis main credits:
Written and directed by Syl Disjonk
Assistant director : Carnior
Produced by Syl Disjonk & Igor Simonnet
Director of photography : Martin McKay
Original music : Martin Gauthier
Sound Designer: Keith McMullen
Art direction by : Véronique Poirier
Cast
Syl Disjonk:  Traveller, sleeping giant, schizophrenic & mutant
Raynald Lapierre: Psychic alchemist
Special effects by Éric Thievierge, Rémy Couture and Jean Pronovost
Visual effects (matte painting and compositing) by Syl Disjonk and Éric Bilodeau